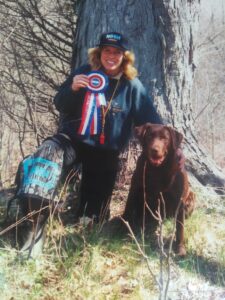 I started training my first puppy to duck hunt in 1984 and was lucky enough to be introduced to the NAHRA program. Was hooked at my first started ribbon. Eight generations of my own breeding and training I have been blessed with many titles including GMHR, Invitational, Master, Derby, Qualifying, and Open and many more  great experiences.  My dogs have taken me to places and to meet people I never would have experienced without NAHRA. Judging has enhanced all of that. It is a huge satisfaction to see dogs and handlers solve the problems of the test and an education for myself as well. The excitement is addicting. Judging over 60 NAHRA tests and well over 50 other venue assignments I hope to bring experience and excitement to the Invitational. Looking forward to seeing you all there.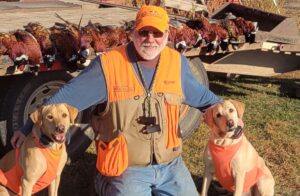 I have been an outdoorsman all my adult life and I have been involved with NAHRA for more than 15 years. I have held leadership positions in my local club and participated in club outreach events from Game Fair to Pheasant Fest. I have attended tests in every region as an entrant or a judge. I am excited about the future of NAHRA, and I welcome the opportunity to expand my role. It is an honor to be selected as an Invitational judge and I am looking forward to working with my Co-judges to create an interesting and challenging opportunity for the top dogs in NAHRA to show what they are made of. Best of luck to all the qualifiers, and I look forward to meeting you in June!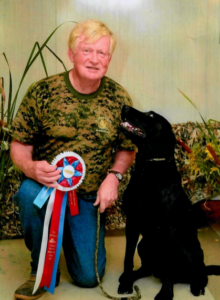 Many years ago, a standout young man (the pledge) pledged my fraternity at UVM. He came from a family of duck hunters and was a retriever enthusiast. I had a blind on a southern shore of Lake Champlain. On numerous occasions, when the wind was right,he and I cut classes, and with my first retriever, Shammy, we headed for the blind. Sham was a four -year-old Golden, and to paraphrase James Lamb Free in Training Your Retriever, at first  he couldn't find a snow goose in a closet. It didn't take him long to become a good goose and duck retriever and a pheasant hunting maniac. For four years after graduate school, I lived, worked and hunted our Labs in East Africa, the Middle East and from Saskatchewan to the coast of Maine.  Many adventures and stories!! Shortly after my family and I settled in Western NY, I joined the WESTERN NEW York Retriever Club. WNYRC was a Field Trial club, but also  ran a  very popular stake called Hunter ( water and land marks) at our monthly trains. Many of our over 100 members were avid waterfowl and upland hunters. A few years later, in the mid-70's, the "pledge" presented to WNYRC a new organization abbreviated NAHRA. The "pledge" was none other than our  first NAHRA President, Ned Spear. I was hooked and have enjoyed many years since judging and running my labs. Treper and Rachy earned the coveted GMHR title. I look forward to hearing the clarion call " Guns up- let's have a dog" at the 2023 Invitational.  Congratulations and good luck to all handlers and their wonderful retrievers. It is truly an honor, along with Maggie Rathje and NAHRA President Phil Hines, to judge your teamwork and  to uphold the high standards  which make NAHRA the best of all hunting retriever programs. Many thanks to Jim Bennett for letting us use his wonderful grounds and to our local hosts, Appalachian Retriever Club, Northern Piedmont Retriever Club and the Eastern Shore Retriever Club.